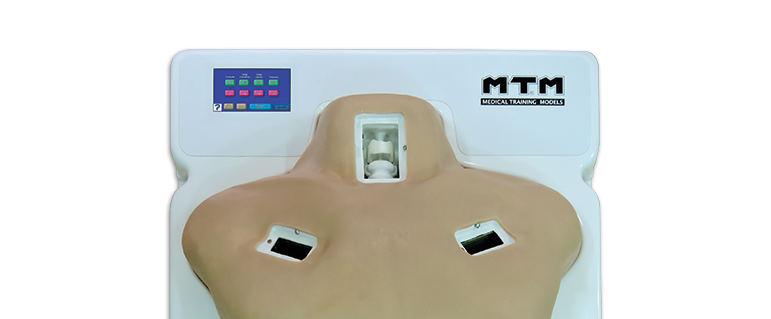 An even more advanced

surgical simulator.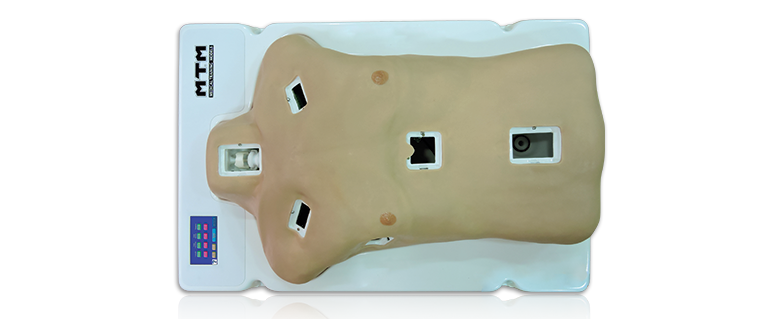 Surgeman Pro is fitted with electronic features that ensure a

realistic

simulation.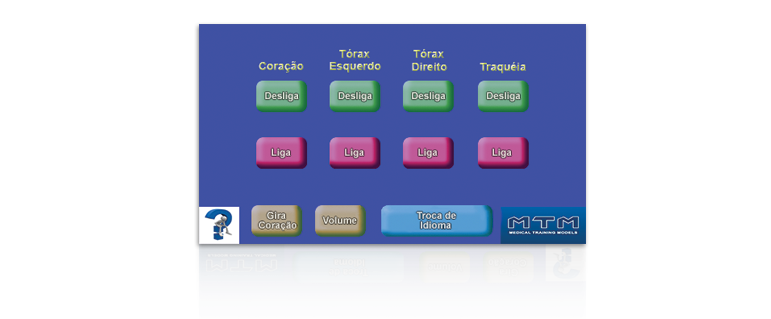 Electronic functions are activated through a

touchscreen.

.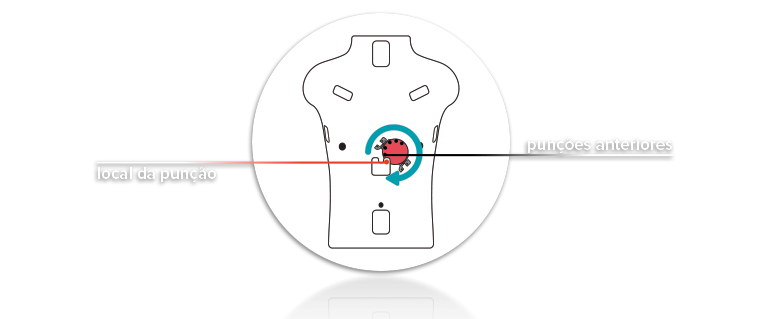 The rotatable heart allows

a greater number of punctures

at the same site.
Surgeman Pro has all the advantages of the conventional Surgeman with the addition of electronic functions that further enrich the simulation experience. With reduced costs, quick replacement of the sites where procedures are performed, high quality artificial skin, easy transportation and wide acceptance in the domestic and international market, Surgeman Pro is a practical and realistic solution for the training of surgical procedures.
ADVANCED
SURGEMAN PRO FEATURES:
• High quality artificial skin – realistically mimics the characteristics of human tissue and its mechanical response to handling, cutting and suturing.
• Exclusive Working Islands system – simplifies the process and reduces replacement areas, restricting them to procedure sites.
• Sound effects – air exiting the trachea and chest.
• Auxiliary LED – pericardial puncture supported by a light signal.
• Rotatable heart – prevents the performance of multiple punctures at the same site and the resulting leakage of artificial blood.
• Touchscreen – used to control electronic functions.
PRACTICAL
8- WITH SURGEMAN PRO TRAINING COURSES CAN BE HELD ANYWHERE.
Weighing only 8 kg, the equipment is light and portable. Weighing only 8 kg, the equipment is light and portable. To make transportation even easier, we have designed a suitcase with the optimal size and shape for the transportation of the Surgeman Pro. Additionally, the exclusive Working Islands system ensures quick and easy change of the areas where procedures are performed.
ADDITIONALLY, SURGEMAN PRO ALLOWS FOR THE PRACTICE OF 6 DIFFERENT PROCEDURES WITH ONE SINGLE DEVICE:
• Surgical airway (cricothyroidotomy);
• Thoracic puncture (thoracocentesis);
• Pleural drainage;
• Pericardial puncture (pericardiocentesis);
• Diagnostic peritoneal lavage;
• Incisions and sutures at the working sites.
ECONOMICAL
THE LINE OF SURGICAL SIMULATORS WITH THE BEST COST-BENEFIT The working islands system, which consists of small scale disposable parts, restricted to the procedure sites, makes transportation easier and cuts material and transportation costs. Additionally, disposal and replacement are quick and straightforward, thus easily enabling a larger number of students to perform all procedures using one single simulator. All these features make the Surgeman line of surgery simulators more affordable and the best cost-benefit of the market.